Website Homepage
---
Set by default as the first thing your visitors see, the list of currently active tournaments displays the logo of each tournament and links to the pages you select. You can further customize this list to show archived tournaments, or individually select the tournaments you'd like to feature.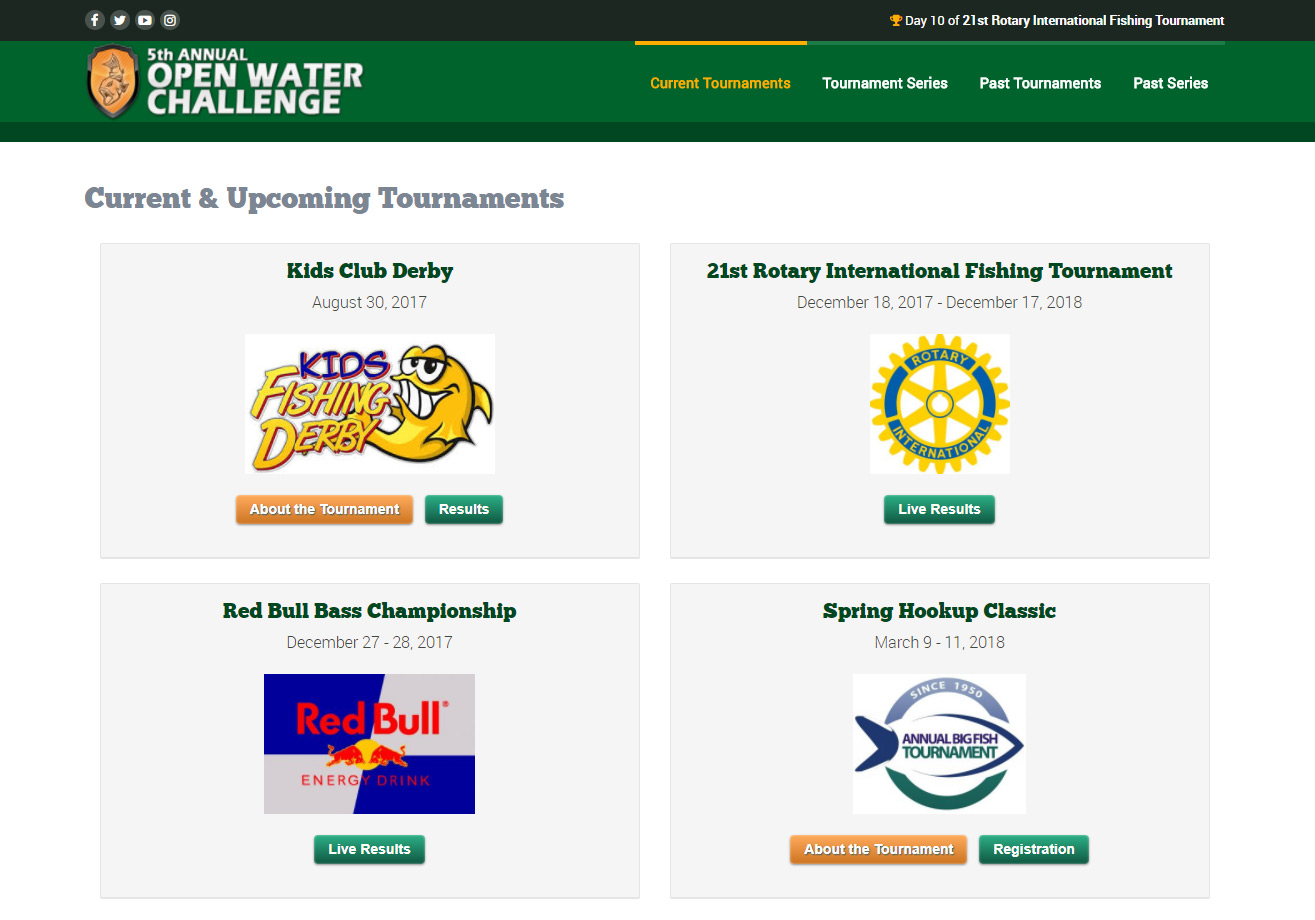 Tournament Info Pages
---
Create as few or as many informational pages about each of your tournaments as needed: About the Tournament, Tournament Rules, Angler/Team Rosters, Sponsorship Pages or Sponsor Hilites, Photo Galleries, and much more. There are over 40 different components available to create the type of pages you need for your organization and for each tournament.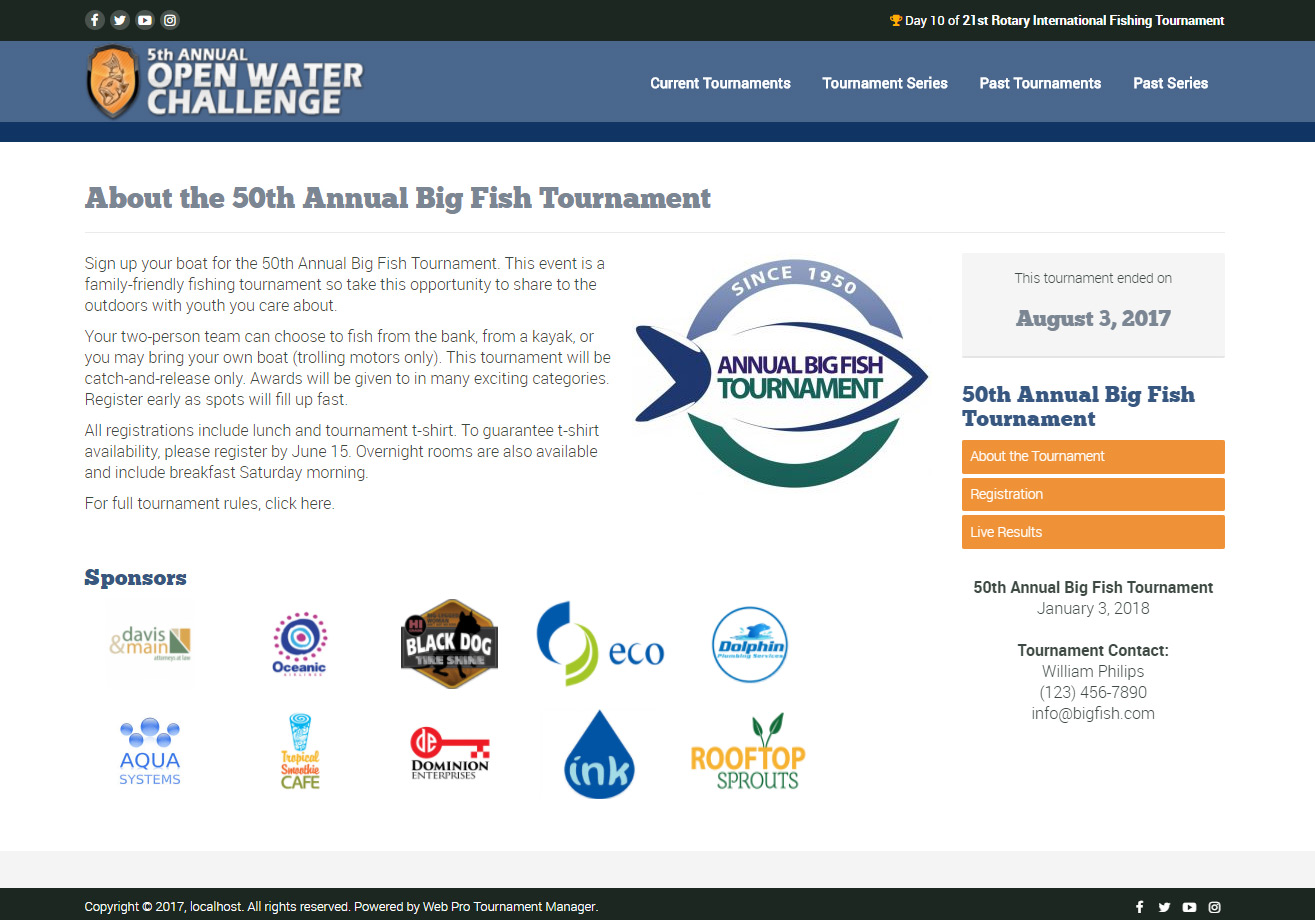 Online Registration Pages
---
Allow both teams and individual anglers to register to your tournament through fully customizable and easy-to-fill-out forms. You have control over what items are shown, what are required, and how they display. You can also show an amount due per team, per angler, or both with separate pricing for different divisions and groups as needed. With a connected merchant account, you can receive payments online by credit card at the time of registration.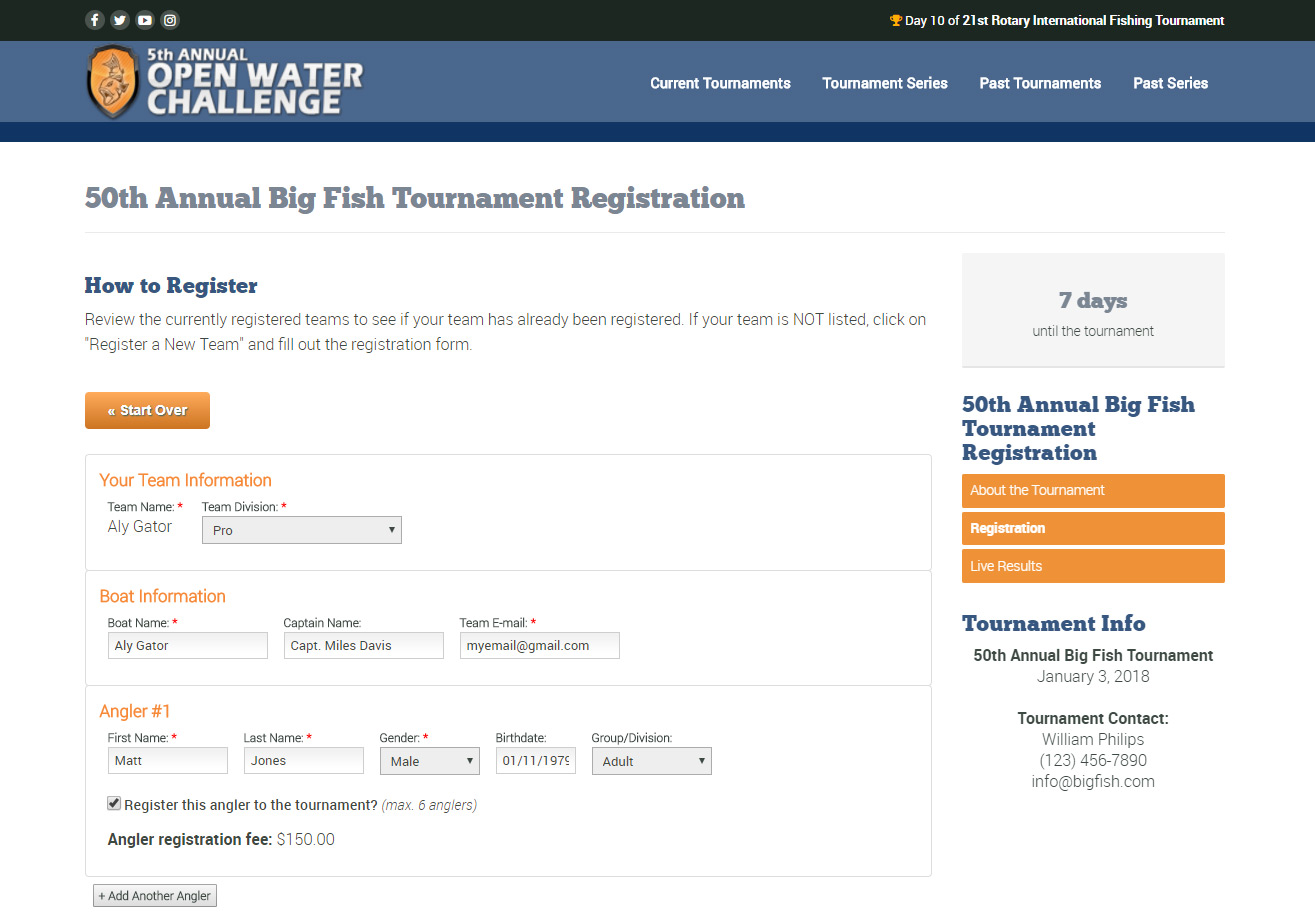 Live Results Pages
---
Setup one or more leaderboards for your tournaments and add them to your Live Results pages which display your current rankings in real-time. You can create as many live results pages as you need for a single tournament or series. Each leaderboard has dozens of options available to narrow your catch data down to display exactly what you need.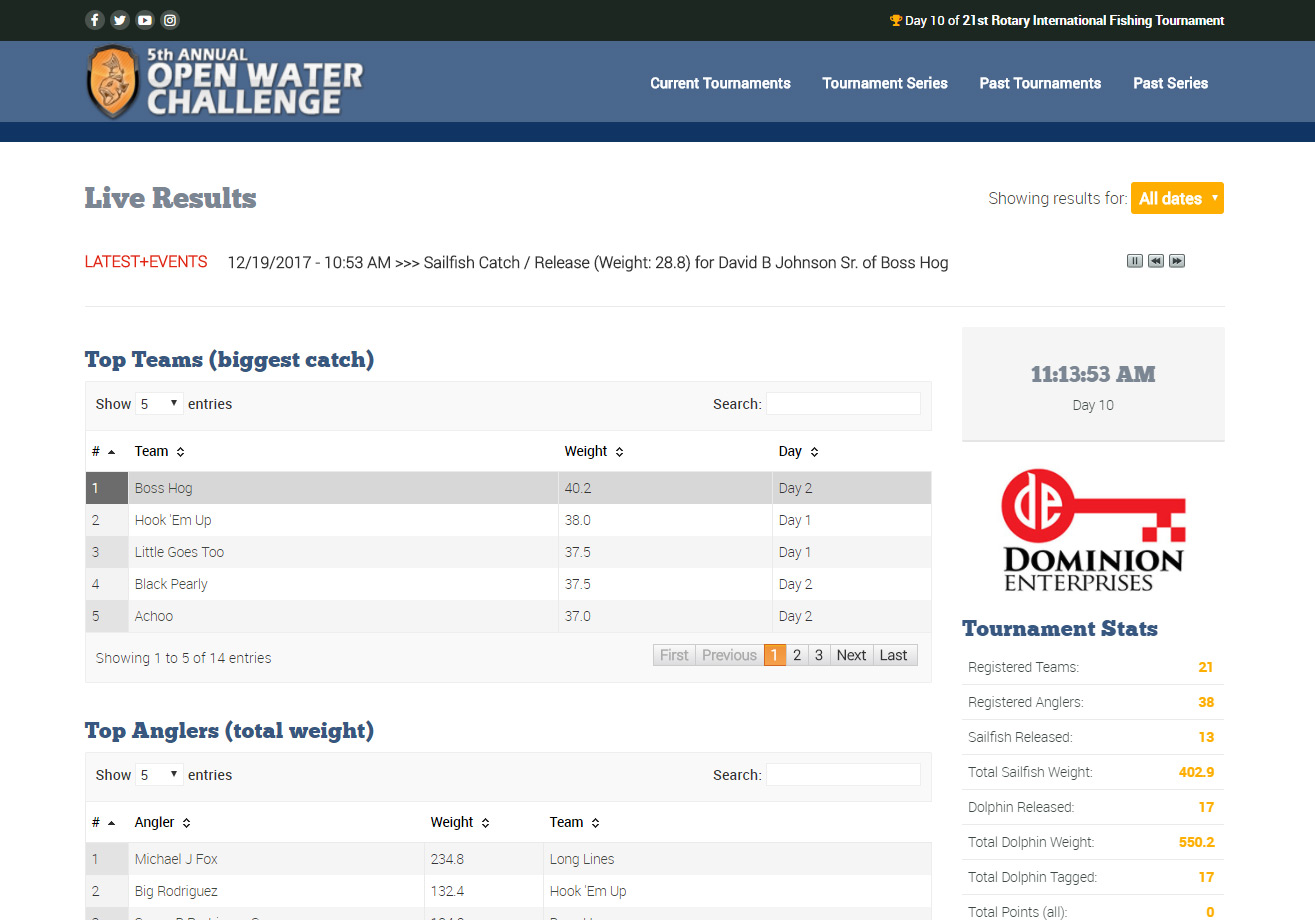 Catch Submission Pages
---
Allow anglers to submit catches directly through your site by simply entering the catch details and uploading a photo. Optionally verify and approve submitted catches as they come in to get them on the leaderboards.
Registration Kiosk Mode
---
Use your same online registration form in "kiosk mode" to make it easy for your boats and anglers to register in-person. Connect a compatible credit card swiper to receive swiped payments.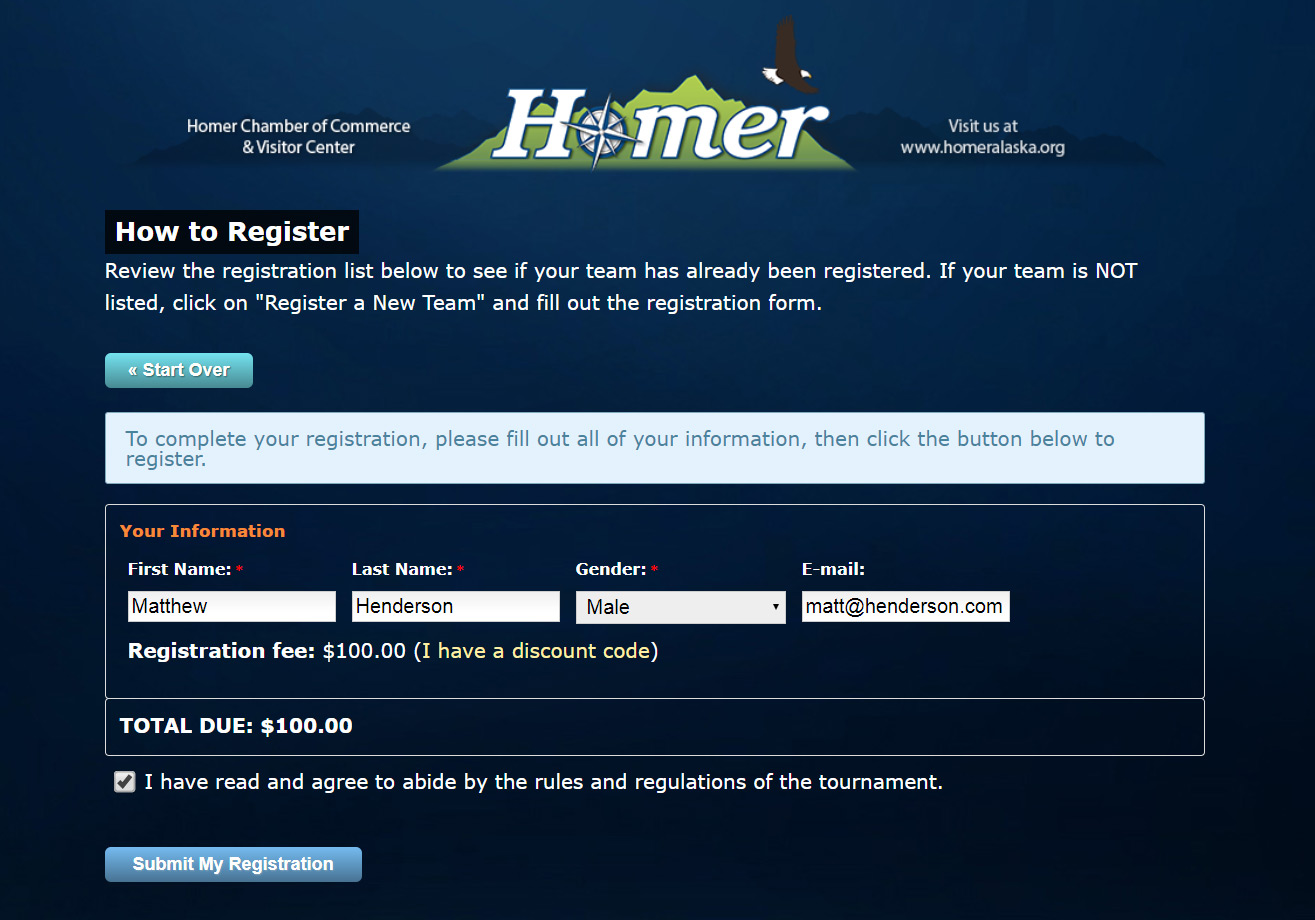 Live Results for Digital Output
---
Show one or more leaderboards on pages specially formatted for TV or large-screen output. Set them to automatically fade from one leaderboard to the next for live on-location displays, or manually cycle them for award ceremonies.