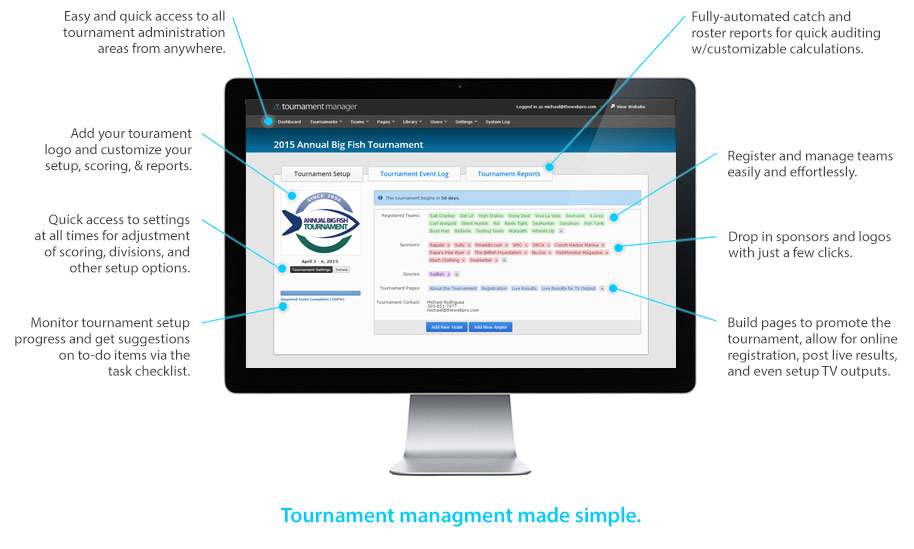 Web Pro Tournament Manager is a comprehensive fishing tournament manager that can handle the real-time results of a live tournament and make them publicly available on the web, along with a full results archive, featuring a fast, easy-to-use, and intuitive administration system.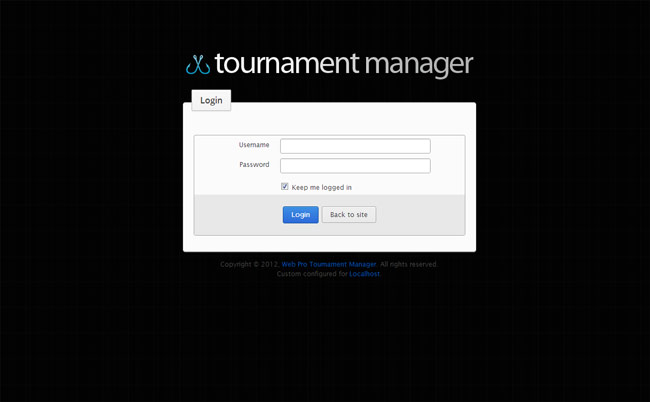 Fast Access from Anywhere
Web-based for easy access - Web Pro Tournament Manager runs online which allows any internet-connected computer secure access to the software from anywhere.
Use on multiple computers - Can be used on multiple computers from different locations at the same time. Great for multiple points of data entry.
Dedicated tournament server - Web Pro Tournament Manager is installed on our dedicated servers run by the professionals at The Web Pro. This ensures that your tournament will be getting the best performance, speed, security, and power available.
Integrates with your own website - The software can be setup to integrate directly with your existing website through a sub-domain, or can be used as a full website if you don't already have one.
Optimized for speed - Quick loading in both the publicly-viewable pages as well as the administration areas, even under heavy loads at tournament time.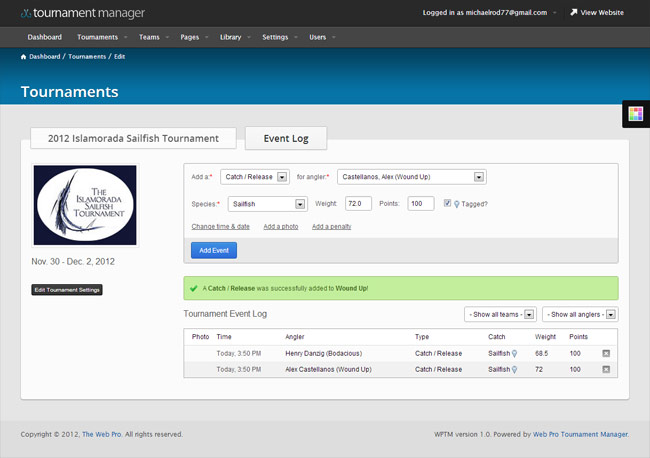 Incredibly Powerful Features
Customize for different tournament setups - We know that every tournament has different needs and requirements, so we've added a wide variety of scoring and setup options to choose from, including several point and weight formats, scoring modes, angler catch limits by size, team-only scoring, tournament durations from a single day to as long as one year, and much more.
Powerful page customization - Add as many pages as you need for your tournament and website, and customize any page (including team and angler pages) in any way you like.
Automatic and smart tournament reports - Web Pro Tournament Manager automatically builds and updates reports as your tournament runs through it's phases. Team/angler rosters and catch reports are fully customizable... you can even manage amounts due and team/angler payments!
Great support for sponsors - Your fishing tournament would be little without help from your sponsors. Give back to them with advertisements, banners, links, or even full-page write-ups.
Zero 3rd-party ads - The software is free of advertisements. No annoying 3rd-party ads. You paid for the software, why let somebody else advertise during your tournament? The only ads your anglers will see will be those of your own personal sponsors.
Send bulk emails directly from the system - Send out mass emails by team, by tournament, or by individual angler before, during, or after your tournaments.
Manageable team & angler divisions/classifications - Add or change divisions for both teams and anglers. If additional categorization of teams or anglers are needed, just use team or angler classifications. Filter all your live results by any amount of divisions and/or classifications.
...and so, so much more! Contact us for a demo to check out the best tournament management software available today!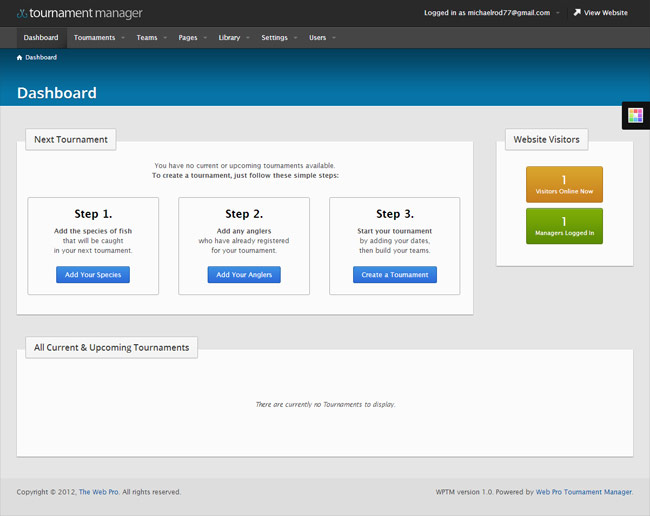 Easy to Learn and Use
Intuitive and easy-to-use interface - Pick up and use the software in minutes without having to read through lengthy manuals first.
Intelligent tournament management - Web Pro Tournament Manager walks you through your tournament setup and changes modes as your tournament progresses through it's different phases.
Easy reference to find the features you need - You always have quick access to a user guide or can use the embedded walk-throughs to help navigate all of the amazing features available in your software.
Smart administration - The administration system makes things simple and easy by allowing drag/drop, using inline windows, and internal loading to keep you working fast and smart.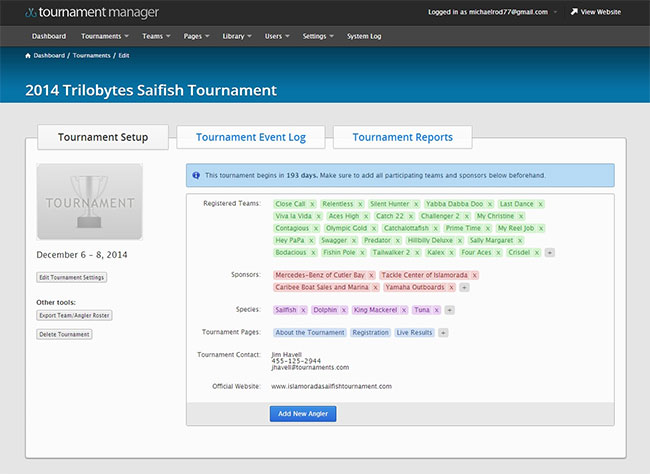 Unlimited Everything!
Unlimited tournaments - Use the software for as many events as you need! Web Pro Tournament Manager even remembers your teams and anglers from prior tournaments to use again when needed.
Unlimited users - The software can be assigned as many administrators and users as you see fit!
Unlimited teams and anglers - No built-in limits to hold back the needs of your tournaments.
Unlimited pages and sections - Without page limits, you can build mini-sites for each tournament or even use the software to run a full website with sections and pages alongside your tournament results.
Unlimited sponsors - Manage sponsors easily by adding as little or as many as you need, then connecting them to any corresponding tournament and showing their logos and linking to their websites.